Various areas of Bluepango Motel such as roofs have been damaged by cyclone Pam.
Every room has their roofs attached (just a little bit of damage), but it is the veranda roofs that are damaged.
Swimming pool(open Dec. 2015) is unavailable at the moment, but Wifi and hot water are.
Welcome to Blue Pango Motel.
Located in Port Vila, 5 minutes from the City centre, but far enough away to enjoy the peace and quiet of Vanuatu.
Sat in a tranquil location overlooking the ocean with beach access,
We have five triple private rooms, four double private rooms, and two 5 bunk-bed shared dormitories.
All rooms have their own kitchen with refrigerator/freezer, gas stove and sink. There are also extra communal cooking facilities complete with cooking utensils provided. All private rooms have their own ensuite with hot shower and flush toilet. The dormitories have a shared shower/toilet. All rooms have fans and windows are protected with mosquito screens and have shutter style wooden vents to let the cool breeze in. There is a cool North Easterly breeze most of the year. Free wifi available. Secluded terrace with outdoor seating.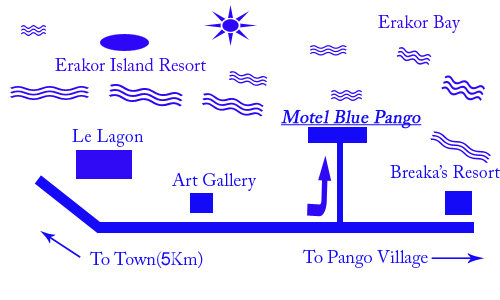 Contact us

Phone +678 7750085